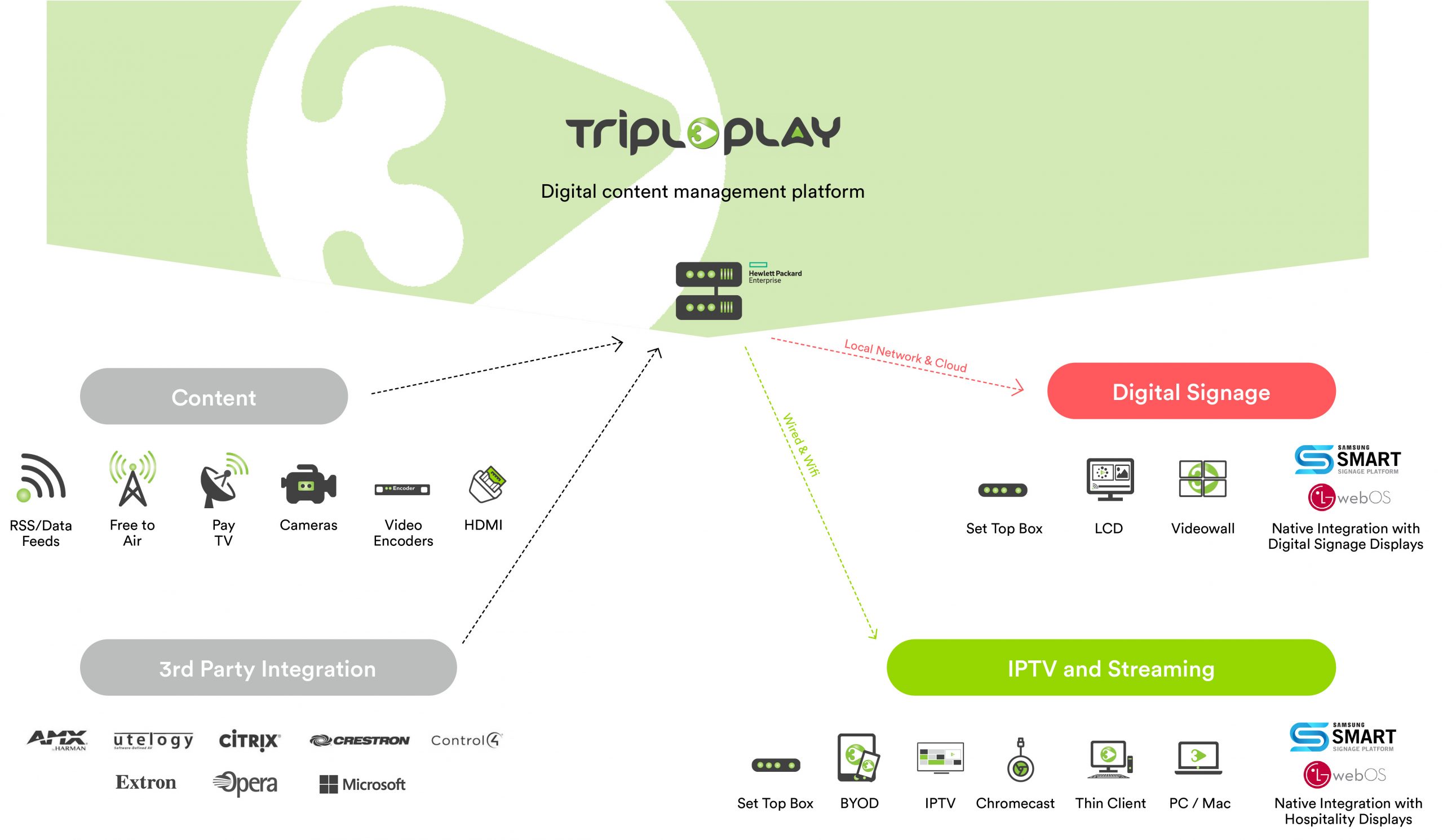 APPLICATIONS WITHIN THE TRIPLEPLAY PLATFORM
Tripleplay offers a flexible, cost effective, feature rich and world-class digital signage content management system.
Digital Signage is the perfect system to deliver communications and use advertising displays within any organisation, giving real time access to content and a more engaging platform for the audience to interact with.  Find out more about Tripleplay's leading edge Digital Signage platform and learn about the features that are unmatched by the competition.
The Next Generation AV/IT solution for IP Television (IPTV) delivery.
Tripleplay's IPTV solution allows the capture and ingest of content from a wide range of sources, encoding and redistributing them across an IP network to our Digital Signage screens, Media Video Player, Interactive IPTV Portal, Mobile Media App or as a standalone TV feed.  Watch the video to find out more about IPTV or get in touch to discuss.
Tripleplay Interactive IPTV Portal is a perfect solution for Hotel TV deployments, residential TV systems, corporate boxes, care homes, hospital bedside TV systems, military and commercial vessels and mining complexes. Their portal is editable, allowing you to match its look and feel to your own brand and comes with several standard templates.  Watch the video or get in touch to find out more.
Video Everywhere with Media Video Player (MVP)
Accessed via Tripleplay's own desktop app for Mac and PC, the MVP provides online and off network streaming via secure encrypted download, as well as personal content upload and a full content management system.  You can even choose how it looks, using the simple portal editing tool; you get the choice of how your platform operates, looks and feels.
Watch the video or download the brochure below to learn more.
Video Everywhere with Mobile Media Application (MMA)
Using Tripleplay streaming and IPTV technology, the Tripleplay Mobile Media Application (MMA) is an integrated platform for viewing, uploading, offline viewing and sharing of media content and comes complete with built-in messaging, forms and chat features.
Watch the video or download the brochure below to learn more.
JOIN OVER 300 ORGANISATIONS USING TRIPLEPLAY
Watch Tripleplay In Action
Manchester City Football Club, UK
Aston University Engineering Academy, UK
Signature Lux by ONOMO Hotels, South Africa
Cardiff City Football Club, UK
Daytona International Speedway, USA

The Tripleplay platform delivers Digital Signage, IPTV, Video Streaming, VOD, Lectures, Audio, Documentation and much more to STBs, Smart TVs, PC, Mac, Tablet, Mobile Phones and Thin Clients.
Using robust security standards and encryption, Tripleplay have created one of the world's safest media delivery platforms. Allowing integration with IT authentications systems provides added peace of mind.
Need video wall integration, touchscreen capabilities, 4k or social media support in Digital Signage? We can deliver that from the same platform that delivers IPTV, our Media Video Player and Interactive IPTV Portal.
Tripleplay and their distribution channel have deployed solutions, in 6 continents to many different markets. Tripleplay back up their distribution channel with support via their own helpdesk and technical teams.